How Much Do Coding Bootcamps Cost in 2023?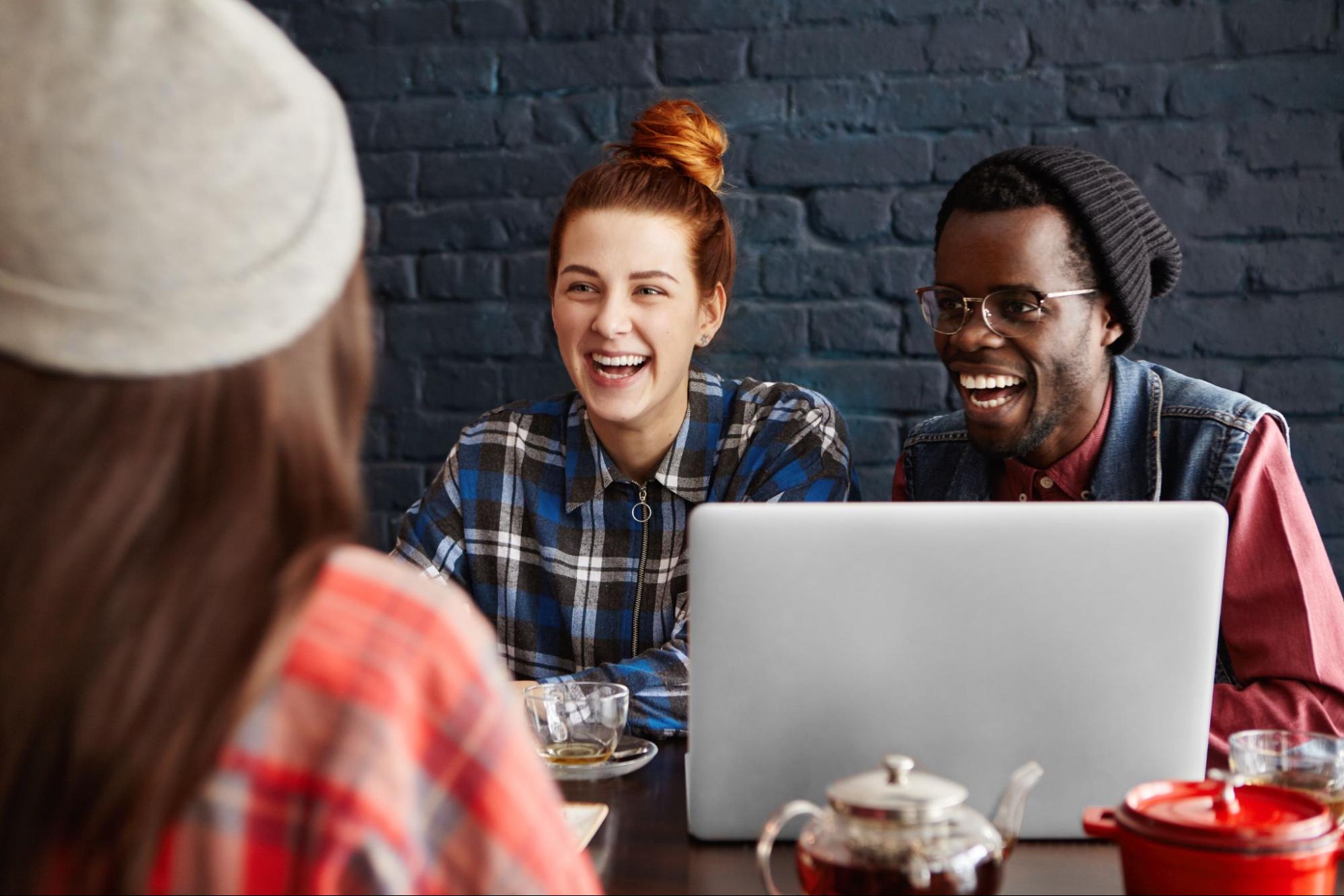 Coding bootcamps can prepare you for a new Software Engineering career quickly – but how much do they cost exactly?
Reading Time 10 mins
Coding bootcamps have grown in popularity in recent years, offering an accelerated path to acquire the skills needed to pivot into a new tech career. But, what exactly are coding bootcamps? Who do they help? And – most importantly – how much do coding bootcamps cost?
What Is A Coding Bootcamp?
Put simply, coding bootcamps are intensive educational programs that rapidly teach students the programming skills needed to become full-stack web developers.
At the end of a bootcamp, students walk away with coding experience in programming languages like JavaScript, HTML and CSS, Ruby, and a strong portfolio of projects.
As for who attends bootcamps, there really is no "typical" student. They may be career changers coming from a non-technical background who want to break into tech, professionals looking to deepen their technical skills, or new participants in the workforce taking an alternative avenue to traditional university schooling. No matter where our students come from, attending a coding bootcamp helps them develop an in-demand technical skillset.
How Much Do Coding Bootcamps Cost In 2023?
Bootcamps are more than just one-off courses — they're intensive, often fully immersive programs. But how much does a coding bootcamp cost?
According to Career Karma, the average cost of a coding bootcamp in 2023 was $13,035. Program cost depends partially on format, with full-time options averaging $14,237 and part-time options coming in at $12,226.
‌‌Tuition At Flatiron School
Flatiron School's tuition varies by discipline – $17,900 for Software Engineering, and $16,900 for Cybersecurity Engineering, Data Science, and Product Design. While tuition represents a significant investment, eligible applicants can apply for scholarships (Merit, Access, Women Take Tech), and may qualify for loan options to fund their education.
While tuition certainly is a big factor to consider when choosing a further education program, we'd encourage prospective students to make a decision based on a multitude of reasons – in addition to the price tag.
Factors to consider include:
Curriculum Quality. Is it reviewed by industry experts? Does it include up-to-date emerging technologies like Artificial Intelligence? 
Instructor Experience and Availability. Will you learn from knowledgeable, experienced professionals? Will there be continuous support throughout the learning process?
Program Flexibility. Is a program entirely online or remote? Do you value the in-person classroom experience, or would you prefer to log in from anywhere?
Pacing Options. Can you commit to a full-time, 40 hours a week learning schedule? Or do you need more flexibility in your life?
Academic Support. Are there technical coaches there to help you through a learning challenge? Or, is there an advising team to turn to if you're struggling to adapt to the program's demands?
Career Services Support. Flatiron School graduates receive up to 180 days of 1:1 career coaching to help launch their career – support that it's difficult to put a price tag on (but realistically, would likely cost thousands of dollars for a similar service).
When you select a bootcamp, you're signing up for a path to the future. Choose a program that will give you what you need to succeed – in-demand skills, hands-on learning, and support both during the program and after graduation.
Coding Bootcamps vs. College‌
We mentioned that coding bootcamps were becoming an increasingly popular means of getting a technical education. However, you might wonder how they stack up against getting a computer science degree, especially once you consider the tuition of a bootcamp may roughly equal to a semester of college.
‌Some of the content may be similar, but there are fundamental differences between these two avenues, and we'll cover some of them here.
1. Time Commitment
Most full-time students spend at least four years in pursuit of a bachelor's degree, where they attend classes for several hours each day and commit several more in the evenings to studying and completing homework assignments.
Full-time bootcamps, on the other hand, focus on accelerated learning, which means that most of them run for 12 to 15 weeks, though that time frame can vary based on the curriculum and pacing (a part-time bootcamp will run longer).
‌Bootcamps frequently have rigid schedules, though if you need more of a part-time option, Flatiron School offers flexible pace options where a student may choose to pace themselves through the curriculum over up to 60 weeks. This is helpful for people who have other time commitments, such as a family or career outside of their education.
2. Financial Investment
There's no comparison between the average cost of a bootcamp and the cost of a bachelor's degree. ‌
The average price for a year in college for the 2023-2024 school year can be north of $29,150, with top-rated technology schools such as Carnegie Mellon and Massachusetts Institute of Technology (MIT) coming in at above $60,000 per year. On the other hand, even the most expensive bootcamp tops out at $30,000, though the vast majority are in the $10,000–$20,000 range. ‌
How To Pay For A Coding Bootcamp
The most straightforward way to ]pay for your education is to pay upfront. If you have the means, the advantage here is that you don't have to think about it anymore afterward, and you can just focus on your studies.
‌Of course, not everyone can foot the bill all at once. There are several alternative ways to pay for bootcamps:
Scholarships. Many coding bootcamps offer scholarships that students may apply for. These are often awarded based on merit or diversity initiatives — such as scholarships for women or underrepresented minorities. You can also check for any local resources that might offer scholarships.
Educational loan‌s. While there isn't much federal aid available for coding bootcamp tuition, the good news is that several private lenders offer financing to bootcamp students.
Payment plan‌s. Some bootcamps offer the option to pay for your accelerated learning in installments. Of course, the terms of your payment plan will differ from school to school.
Employer assistance. Did you know employers may offer tuition assistance? Ask your employer about their tuition assistance benefits!
What Salary Can I Expect After Graduating From A Coding Bootcamp?
At the end of the day, what really matters when selecting a coding bootcamp is the outcome – the likelihood of getting a software engineering or similar job post-graduation. While no program can guarantee a job post-graduation (unless they're giving you one), it is helpful to look at previous graduates' job placement rates to get an idea of what to expect.
Job Search Support
The best coding bootcamps support their students' job searches post-graduation, and transparently report the results of those searches each year. Unless the program is new and you're willing to take a risk, you'll want to steer clear of bootcamps that either have low rates of job placement or have no data available. It's a good idea to ask for a third-party verified outcomes report so that you have a clear picture of what you might expect upon successful completion of the program.‌
Flatiron School is proud to be the first coding bootcamp to put out job placement statistics that were examined by an independent third party. And, with our robust career services that offer up to 180 days of career coaching post-graduation, we're proud to say that in our 2022 jobs report, 90% of graduates* got a job in tech.
*For job-seeking full-time and part-time graduates included in the 2022 Jobs Report, including full-time salaried; full-time contract, internship, apprenticeship, and freelance roles; and part-time roles during the reporting period. (See full Jobs Report here.)
Reported Graduate Salaries
Flatiron grads aren't just getting tech jobs — they're being paid well too.
Graduates of the Software Engineering program at Flatiron School boast average starting salaries higher than the national average. See the most recent jobs report for complete details.
Are Coding Bootcamps Worth It?
Coding bootcamps are phenomenal programs for developing new skills, but they aren't for everyone.
‌Whether or not a coding bootcamp will be worthwhile for you is highly dependent on your goals and your ability to commit to the workload. However, below are some benefits and disadvantages of attending one. ‌
Advantages Of Attending A Bootcamp:
Develop skills quickly. For those looking to pivot to a career in tech, four years and thousands of dollars in tuition for a college degree might be too big an investment. Bootcamps teach you real-world job skills for a fraction of the cost, and in a fraction of the time.
Options to study while working. Many bootcamp students are already professionals in another field. They want to make a transition into a specific career — whether that be software engineering, data science, product design, or cybersecurity — but don't have time or desire to put their current job on hold to pursue further education. The flexibility of a bootcamp makes that a possibility.
Affordable tuition. While coding bootcamps do represent a sizable investment, they are much more affordable than college degrees. Even the priciest bootcamps cost less than a semester's tuition at America's top tech schools.
Career coaching included. Many top bootcamps offer career services and job search assistance to recent graduates. These offerings include anything from accountability check-ins to materials review and mock interviews. Part of landing a tech job is being prepared for the technical interview, and career coaches can make all the difference to job seekers.
‌Networking opportunities. A robust professional network is critical for any job seekers, and the good news is that bootcamp grads have one baked into their programs in the form of classmates entering a new industry along-side you.
‌Develop in-demand skills‌. Where university programs might hold onto curricula that include legacy languages and out-of-date development approaches, bootcamps teach the most current and in-demand paradigms and emerging technologies (such as artificial intelligence). Starting and finishing your program within a year — or even a few months — means that there's virtually no danger of your skills becoming outdated before you finish.
Disadvantages Of Attending A Bootcamp
Following a tuition payment schedule. Coding bootcamp tuition is paid either upfront or over a much shorter period than federal student loans – 5 years vs. 10 years. But, as a bootcamp tuition is far lower than even a year of attendance at many schools, the overall amount paid over the shorter time period will inevitably be lower.
Fast-paced learning schedule. Bootcamp programs are fast-paced, so students need to be prepared to study and work on projects for long hours to succeed.
Some employers prefer degree holders. There are still HR managers out there who expect candidates to have a college degree. However, many in the industry believe that bootcamp graduation is a respectable means to developing the skills required to get started in a rewarding career.
‌‌No matter where you get your start, it's important to keep learning in tech as the field evolves. Starting with a bootcamp and later going for a degree can be a viable path to advancement, though it's just as likely – especially as opinions on university shifts – that you can learn the skills you need to move up the ladder both on the job and through learning on your own.
Ready To Get Started Learning To Code?
We covered a lot in this article, and we hope that you're better equipped to do your research on the various bootcamps and educational paths that are available today.
But, whichever programs you're considering, we'd encourage you to look at alumni stories and see if you can relate to their journeys. No matter where you come from or what technical level you're starting from, a coding bootcamp can get you one step closer to your dream career. Some of our recent alumni's journeys are below:
Apply Now to join other career changers just like these in a program that sets you apart from the competition.
Need more time to be ready to apply? Try out our Free Software Engineering Prep and test-run the material we teach in the course.
Read more stories about successful career changes on the Flatiron School blog.
Disclaimer: The information in this blog is current as of 8 November 2023. Current policies, offerings, procedures, and programs may differ. For up-to-date information visit FlatironSchool.com.
Posted by Blair Williamson / November 8, 2023