Upcoming Course Start Dates
An Exceptional Learning Experience
Flatiron School remains committed to helping our students succeed, land incredible jobs, and make the biggest impact possible. We're also proud and honored to be recognized with several industry awards.
Awarded Best Coding Bootcamp 2021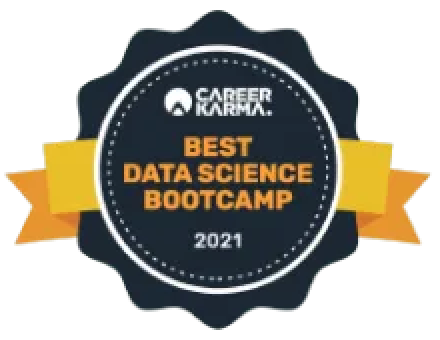 Awarded Best Data Science Bootcamp 2021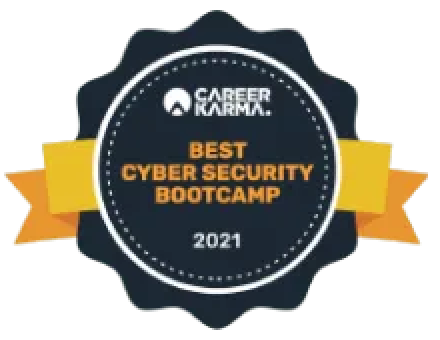 Awarded Best Cyber Security Bootcamp 2021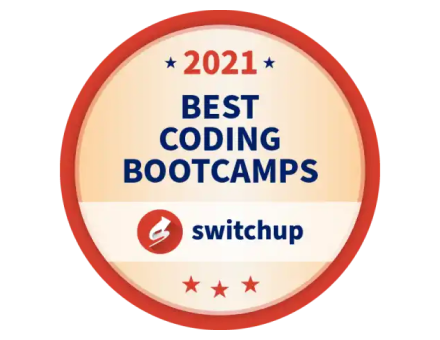 Awarded Best Online Bootcamp 2021
Learn the skills to kickstart your software engineering career.
Front-End Development
After diving into the fundamentals of programming, you'll get comfortable with creating UIs and style webpages, including JavaScript and ReactJS.
Front-end web applications
You'll learn two key Ruby frameworks, first mastering the fundamentals of web programming with Sinatra before learning how to build incredible apps with Rails.
Back-end development
You'll gain a thorough understanding of Ruby basics before getting comfortable with object-oriented programming and storing information in databases using SQL and Object Relational Mappers.
Back-end web APIs
First, you'll learn Rails — an object-oriented, Ruby framework — before using it to create their own JSON API along with productive, scalable front-ends with React and Redux, creating slick, functional, reactive code.
Projects
After completing four curriculum modules focused on group projects, you'll work with instructors to come up with project concepts and spend dedicated time building truly sophisticated applications. You'll receive plenty of instructor feedback along the way while diving deep into various advanced technologies needed to bring your concepts to life.
Our learning experience adjusts to your life.
Learn a life-changing skill at your pace. Your admissions representative will help you choose the option that makes sense for you.
Live
You'll learn software engineering skills on a fixed schedule: roughly 8 hours a day, Monday through Friday, for 15 weeks. You will interact with students and instructors on a full-time schedule, and learn both collaboratively and solo.
15 weeks long
Daily touchpoints with your cohort, group work with instructor help, paired programming sessions, lab time with instructional staff, and community support.
Best for: students who want to lean into live lectures, a structured schedule, and learning in community with other students.
Available: in-person and online
Flexible Pace
You have access to the same curriculum, but set your own schedule — choose 20, 40, or 60 weeks — and work independently. With added flexibility, you'll still be able to access study groups and 1:1 instructor sessions.
20, 40, or 60 weeks long
Set your own hours
Mostly recorded lectures, with optional live weekly lectures and office hours, weekly check-ins with instructors, ability to chat with classmates and instructors via Slack.
Best for: working professionals that need to fit class into their already-busy schedule.
Available: online only
Choose a start date
A demanding schedule doesn't have to stop you from career transformation. Both our full-time and flexible pace options empower you to switch careers, and all you have to do is choose a state date that works best for your schedule.
Course Dates
Start Date
Pace
Length
Location
Courses
Status
February 21, 2022
Full-Time
15 weeks
New York City, Online
Software Engineering
Closing Soon
Apply
February 21, 2022
Flexible
20, 40, or 60 weeks
Online
Software Engineering
Closing Soon
Apply
March 14, 2022
Full-Time
15 weeks
Online
Software Engineering
Open
Apply
April 4, 2022
Full-Time
15 weeks
Denver, New York City, Online
Software Engineering
Open
Apply
April 4, 2022
Flexible
20, 40, or 60 weeks
Online
Software Engineering
Open
Apply
April 4, 2022
Full-Time
15 weeks
Washington, D.C.
Software Engineering
Open
Apply
April 25, 2022
Full-Time
15 weeks
Online
Software Engineering
Open
Apply
April 25, 2022
Flexible
20, 40, or 60 weeks
Online
Software Engineering
Open
Apply
Find the location for you.
Learn online from anywhere or at one of our campuses across the country.
Transition to a high-paying software engineering career.
Flatiron School guides your journey after your education, providing you with tools to help you land at companies and organizations where you can make a difference.
180 Day Individual Career Coaching
Meet with your Flatiron School career coach regularly to ensure you land a software engineering job as soon as possible. Your career coach will help with interview prep, resume reviews, and building your personal brand.
Real-World Preparation
Our courses don't just prepare you for a future tech career – Flatiron School prepares you to make a difference in the world. Our curriculum is regularly reviewed by industry partners to ensure that you learn the most relevant, in-demand job skills.
Vast employer network
We've built relationships with hiring managers at top companies across the world, creating a robust employer pipeline for Flatiron School grads. Our Employer Partnerships team is constantly advocating for our grads to get you in the door.
Our grads work for some of the most influential companies in the world.
Learn with a community.
Award-winning courses and proven outcomes don't happen in a vacuum. At Flatiron School you learn with the support of our whole community. From our employer partners down to your cohort mates, everyone is actively rooting for your success.
How to Apply
Step 2: Interview
Speak with an admissions representative. This is a non-technical interview, and is an opportunity to learn more about our program. Here's what you can expect in the admissions interview.
Step 3: Admissions Assessment
Step 4: Admissions Decision
Typically within 4 business days, you will hear from our team if you've been accepted.
Step 5: Prework
If accepted, you will begin "pre-work" that must be completed before the first day of class. Pre-work consists of approximately 20 hours of lessons and labs to prepare you for the course.
Tuition
No matter what discipline or pacing option you choose, all of our programs are available at one price, with 3 ways you can pay.
We have 3 easy ways you can pay for tuition.
Pay upfront
Pay with a loan
Pay in 12 monthly installments
Scholarships & Diversity Initiatives
We believe that everyone who is willing to work hard deserves an opportunity to break into tech. That's what we offer scholarships to support diversity in tech — from our access scholarship to programs to support underrepresented groups in tech. See Scholarships
Frequently Asked Questions
On-campus programs are held full-time and you are expected to be on campus for each day of class. The online program uses the same curriculum, but gives you the added flexibility of studying from home.
No matter which program you sign up for, you can still visit campus to connect with fellow students and alumni, find quiet places to study and work, and attend networking and workshop events.
Coding bootcamps offer a lot of things. They offer an opportunity to learn the skills you need to launch a career at a relatively affordable and fast pace.
What's required of you is to find the right bootcamp. Find a place that teaches in a way that fits your learning style, meets your price point and schedule, and focuses on the languages and skills that align with your career ambitions. If you do your research and find the right place for you, then attending the right bootcamp is definitely the right choice.
In sum, if your goal is to learn software engineering skills and to start a coding career, then the answer is an unequivocal 'yes' — good bootcamps are worth it.
Learn more about whether coding bootcamps are worth it for you.
In many ways, coding bootcamps definitely do work, and there's a lot of proof behind that statement.
But it's better to first ask yourself, "What do I want to get out of attending a coding bootcamp?" Asking yourself what your goals and ambitions are is how you'll know if a bootcamp would work for you.
Some people want to just become acquainted with code, which is great, but a full-time bootcamp might not be the best route if you're looking for a basic understanding of coding.
If your goal is to learn to become a software engineer, then yes, coding bootcamps do work.
While they vary with each course and each school, online coding bootcamps are short-term and often rigorous training programs to help students learn the programming languages and development skills they need to become professional software engineers.
We don't require you to have prior coding experience to apply for the software engineering program. Our admissions requirements are being at least 18 years old, having a high school diploma or a GED, having a native or bilingual fluency in English, and completing the admissions process.
Before joining your cohort on Day 1, you will have to complete 40 hours of pre-work to learn the basics of HTML, CSS, and JavaScript so you are prepared to get started straight away.
Our software engineering program offers a full-stack web development experience. This means that you'll learn to think and build like a software engineer by engaging with both front-end and back-end programming languages. The core languages taught in the software engineering program are HTML, CSS, JavaScript, React, Ruby, and Rails.
The Flatiron School Career Services team exists to help get you hired. We do this in two ways:
Empowering stand-out job-seekers to learn to be no-brainer hires → this is what your Career Coach does!
Building a nationwide network of hiring partners → this is what the Employer Partnerships team does!
You will have an initial meeting with your career coach during the program to get acquainted with the process. Once you've graduated from the program you'll work with your Career Coach on how to maximize your opportunities and efforts for landing a job. It is important to note that, like with our course, you must come prepared and committed. Your Coaches will help you to get organized and prepare you for interviews, but it is up to you to do the heavy lifting as well.
If you would like to connect with a member of our team, please simply schedule a chat with one of our admissions representatives.