We make change possible.
We believe anyone who is willing to work hard for their career goals deserves the opportunity to succeed. That's why we offer a variety of payment options and scholarship opportunities so you can make your dream career possible.
Tuition
No matter what discipline or pacing option you choose, all of our programs are available at one price, with 3 ways you can pay.
We have 3 easy ways you can pay for tuition.
Pay upfront
Pay with a loan
Pay in 12 monthly installments, with no interest
What's included in tuition
Up to 180 days of 1-on-1 career coaching after graduation
1-on-1 time with experienced instructors
Access to technical coaches for help when you need it
Modern curriculum, regularly reviewed by industry experts
1 comprehensive tuition, no matter which program you choose
Financing
Flatiron School does not qualify for federal financial aid, but we do have several financing options to help with your investment.
Pay Up Front
Make a $500 deposit, then pay the remainder of your tuition, before the start of class.
Pay in Installments
12-month no interest installment plan through EdAid, available to students who qualify.
Pay With a Loan
Available only to those who qualify, you can apply for an educational loan through one of our financing partners — Ascent and Climb.
Eligible students can apply for an educational loan through one of our financing partners — Ascent and Climb. 
Ascent and Climb offer the option to pay with monthly payments for up to 36 months (Ascent) or 42 months (Climb). Students who qualify can get a loan for the tuition amount, minus deposit and scholarships. 
Cost of Living Loan
Only available for students in the live or in-person programs.
We know there are other expenses besides tuition. That's why Ascent and Climb offer an additional Cost of Living loan — up to $7,500 in addition to the cost of course tuition. We get it — even if you're reinventing your career, you'll still need to buy groceries and pay bills.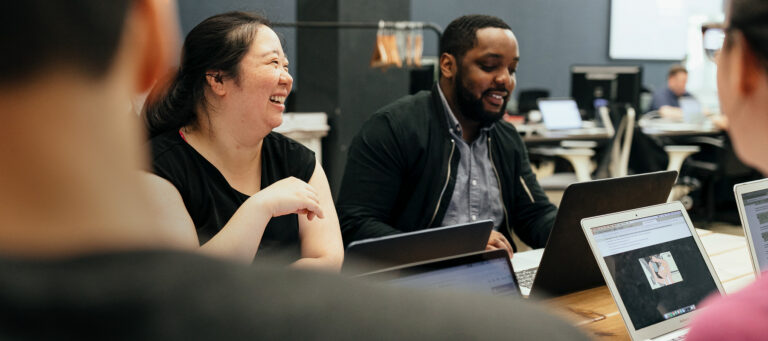 Scholarships
Flatiron School and its partners offers several scholarships — especially supporting diversity in tech — to make your career change a reality. See if you qualify for one of the scholarships below.
To build a more diverse, inclusive tech community, the Access Scholarship is awarded to students from underrepresented communities.
At Flatiron School, we work tirelessly to empower women in tech and break down obstacles to a new career.