How to Get into a Cybersecurity Bootcamp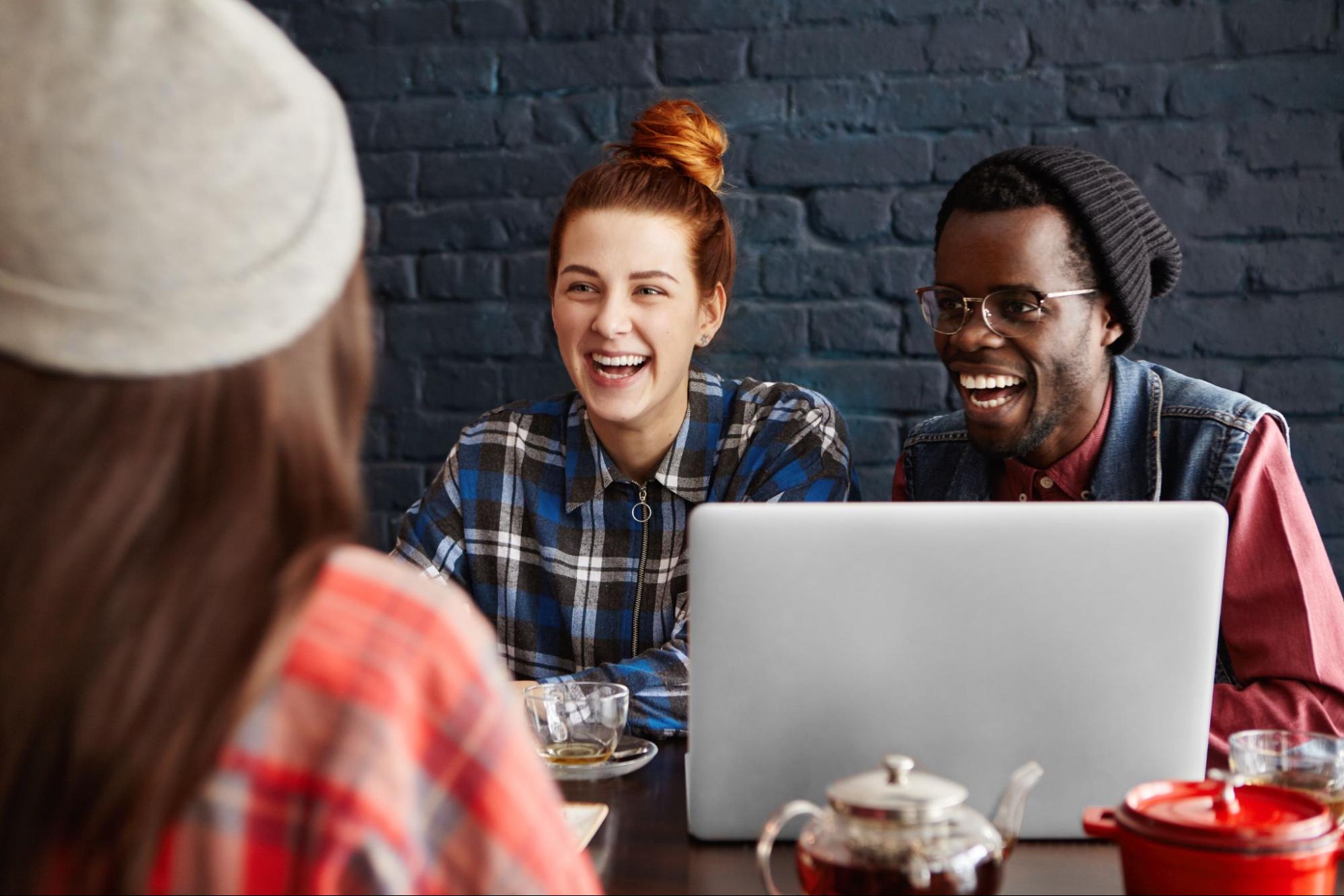 Cybersecurity bootcamps are intensive, immersive educational programs designed to teach you hands-on skills and practical industry know-how that will help you get a job in cybersecurity. Read this article to find out how to get in.
Reading Time 6 mins
If you're interested in pursuing cybersecurity, you couldn't have picked a better time: the demand for skilled cybersecurity professionals is projected to grow by 31% between 2021 and 2029.
Other reasons to consider a career in cyber? Consistently low unemployment rate, high starting salaries, and meaningful work protecting others from potentially devastating cybercrime.
The best cybersecurity bootcamps can help you break into this fast-growing industry in months instead of years like a traditional 4 year degree. Here's how to get into a cybersecurity bootcamp and begin your journey to a fulfilling new career.‌
What is a cybersecurity bootcamp? 
Cybersecurity bootcamps are intensive, immersive educational programs designed to teach you hands-on skills and practical industry know-how that will help you get a job in cybersecurity. Bootcamps are relatively short and extremely rigorous — hence why they're referred to as "bootcamps." 
Generally, bootcamps last twelve to sixteen weeks, and some offer flexible pacing options so you can learn at a pace that fits your schedule. This may not seem like a very short amount of time, but when you remember that traditional computer science programs at universities can be up to four years long, bootcamps are shorter and also more efficient at helping you break into the industry. 
What background & skills you should have to get into cyber bootcamp?
To be successful in a cybersecurity engineering bootcamp, you should have some prior knowledge of programming languages and a working familiarity with Windows, Linux, and Unix operating systems. 
‌Typically, students who excel in cybersecurity engineering bootcamps will be detail-oriented problem-solvers with an IT background or interest in computers. Cybersecurity is such a problem solving field, so it helps if you are naturally curious and have a learner's mindset. You should be resilient and persistent when tackling complex problems, and have strong communication skills to collaborate with other team members. 
‌You do not need to have a college degree before applying to cyber bootcamp, but some bootcamps may give preference to students that have degrees in technology, computer science, science, or mathematics.   If you don't have a degree in a related field, you can still demonstrate passion for the subject matter by self-studying — there are many free lessons and resources available online to get you started.
‌What will you learn in cyber bootcamp?
Cybersecurity bootcamps will give you a foundational knowledge of how to protect computer systems and networks from harmful cyber attacks. You'll learn how to use advanced cybersecurity tools like Python, Wireshark, Splunk, Linux, and Metasploit to defend against cybercriminals. You'll learn about various concepts related to networks and systems security, cryptography, threat intelligence, Python programming, and penetration testing. 
‌Cybersecurity bootcamp will prepare you for a career in roles such as:   ‌
Security Engineers develop detailed cybersecurity designs and build the underlying computer security architecture for an organization. Their work is the first line of defense against cyber threats. 

‌Penetration Testers, also known as Pen Testers, are sometimes known as ethical hackers. Their job is to find and expose security vulnerabilities in order to stop cybercriminals from finding and exploiting these holes in their company's network. 

Cybersecurity Analysts focus on research, data analysis and creative problem-solving. Day-to-day work can include scanning internal datasets to detect system vulnerabilities and cyber attackers, and drawing on external intelligence to predict and prepare for future cyber threats.‌
How to stand out as an excellent applicant
Bootcamps are incredibly rigorous programs intended to prepare you for a career in professional cybersecurity. Some bootcamps prefer if you have a technical background or show an enthusiasm for computers and the cyber field.  
Take a free online lesson
Some bootcamps offer free tutorials that you can take to see if you are interested in the course content. You can use these tutorials to test your knowledge before applying for bootcamp, and are also a great way to show you're serious about the program. 
‌Lesson #1: How to Prevent Phishing 
Phishing is one of the most common types of cyberattacks. In this how to prevent phishing tutorial, students will be introduced to different social engineering methods and strategies for protecting personal information such as social security numbers, credit cards, and passwords.  
This course is ideal for beginners interested in learning how to protect their information by identifying phishing scams.
Lesson #2: Introduction to Virtualization Technology
This intro to virtualization technology tutorial is great for beginners interested in the technical aspects of cyber. Students will learn what virtualization is and how cybersecurity professionals use it to protect sensitive information and defend against cybersecurity attacks.
Lesson #3: Introduction to Cryptography
Another good tutorial for beginners interested in the technical aspects, students will learn why cryptography is one of the essential cybersecurity tools for securing communications.
This lesson will give a hands-on introduction to encryption, ciphers, and cryptanalysis and show how they are used in cybersecurity. 
Lesson #4: Introduction to IoT Security
This intro to IoT security lesson is perfect for beginners interested in protecting their information. The tutorial will show students how "Internet of Things" devices — like smart fridges, thermostats, and iPhones — interact with one another and how they may become vulnerable to attack.  
Topics covered include IoT Device Security, MAC Addresses, Wardriving, Botnets, and Using Nmap. 
2. Brush up on the topics you might learn in bootcamp. 
Students will want to make sure they've brushed up on the topics and skills they might encounter at cybersecurity bootcamp before applying. It's best to have at least working familiarity with what you'll be expected to learn or know before attending. For a cybersecurity bootcamp, focus on brushing up on programming languages and operating systems like Windows, Linux and Unix.
 ‌3. Check out the syllabus for the course you're considering. 
Study the syllabus and make a list of questions that you have for the admissions team. This will show your commitment to learning and interest in the program. 
Check out this article about the admissions interview at Flatiron School. It has a list of questions that you might ask in your admissions interview.  ‌
Choose a bootcamp & apply
Different bootcamps may focus on different elements of cyber, but you can expect to be prepared for common cyber roles like:  
Cybersecurity analyst

Threat intel analyst

Compliance analyst

Penetration (or pen) tester

System security administrator

Cybersecurity consultant

Information systems security manager

Cybersecurity engineer 
‌There are many options available out there, so how do you choose the best cybersecurity bootcamp for you? Research different bootcamps and make sure the student reviews are good, job-placement and career services are included, and most importantly — they teach what you're interested in learning.  
Flatiron School is one of the top cyber bootcamps, according to Career Karma. Flatiron School offers online, full-time, and flexible pace programs to give students the flexibility they need to fit bootcamp into a busy schedule. They provide different financing options like upfront payments, scholarships, and financing through educational loan partners.
‌Apply to cybersecurity bootcamp 
Once you're ready to apply, there are only a few steps left. The actual application is a fairly simple form, but you should use the form fields to communicate your passion, goals, and why a bootcamp is the right next step for you.
After you complete the Flatiron School application, you will schedule an admissions interview, which is a conversation for you to ask questions about the program and for us to learn about your goals. 
Finally, you will take an admissions assessment, which is a 15-minute critical thinking test. Your score will be used as part of your admissions decision. Read about how to pass the admissions assessment. 
Still have some questions about if this program is right for you? Book a 10-minute chat with admissions to get started. 
Disclaimer: The information in this blog is current as of 15 July 2021. Current policies, offerings, procedures, and programs may differ. For up-to-date information visit FlatironSchool.com.
Posted by Blair Williamson / July 15, 2021