How To Ace Your Flatiron School Admissions Interview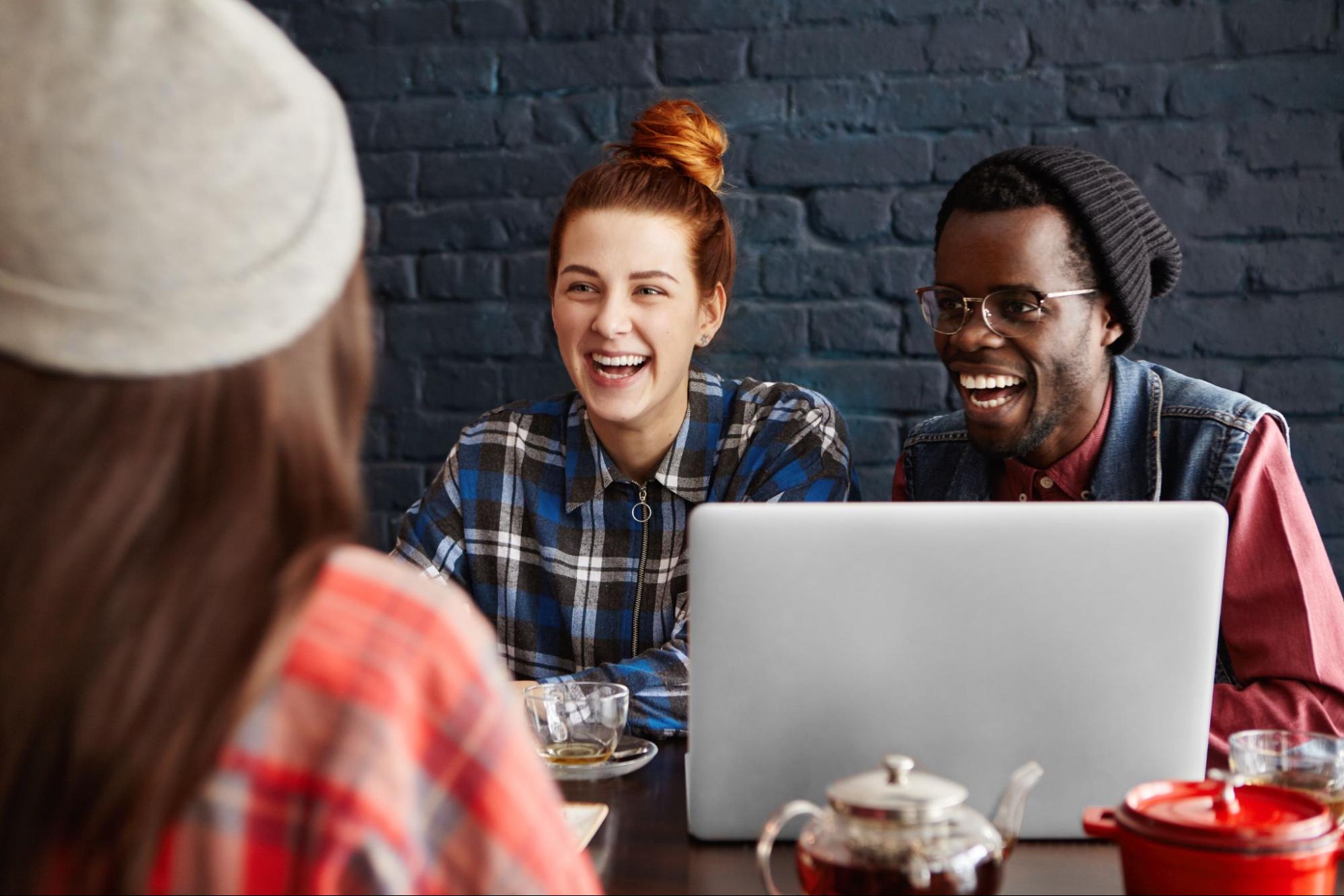 Ready to apply to a bootcamp at Flatiron School? Read this article to find out how to ace the admissions interview.
Reading Time 6 mins
"Admissions interview" can sound intimidating, but at Flatiron School, we're not out to make it stressful or scary. Here's what you need to know about this step of the enrollment process, straight from us on the admissions team.
After you apply to a Flatiron School course, someone from the admissions team will reach out and invite you to schedule your admissions interview when it's convenient for you. This is a 20–30-minute conversation we have over Zoom or the phone.
Your admissions interview is less like a job interview and more like a conversation. It's when you meet your admissions rep, start building a rapport, and talk about the rest of the admissions process.
You'll talk about your career goals, the course you're interested in, and the program pace that is best for you – full-time or flexible schedule. It's also the time when we share more detailed information you'll need about deadlines, the curriculum, the industry, computer requirements, prework (some programs require you to complete some tasks and assignments before day one of your program), and any questions you may have.
Your admissions interview gets you one step closer to your new career
We encourage every applicant to schedule their admissions interview as soon as they can. Our goal is to help you make a successful career change. To do that, we need to talk with you about your goals, your expectations, and what you need to do before you start your course.
Whether you're an absolute beginner in tech, have some experience, or are totally confident, we're going to meet you where you are, help you find the right path, and act as your partner during the rest of the admissions process.
In fact, the more of a beginner you are, the more we encourage you to go ahead and schedule your admissions interview. In that meeting, we can make sure you have the resources you need for the rest of the admissions process. For example, you may need to take one of our free workshops before you start your course, so you're set up for success.
How can you get ready for your admissions interview?
Before you talk with us, there are a few things you can do to make our conversation easier and more helpful to you.
Check out Flatiron School's free workshops
We've got free workshops to help you get ready for our Software Engineering, Data Science, Cybersecurity, and Product Design courses, plus free intro lessons on coding with Python and JavaScript. These are not required before your admissions interview but are a great way to try out what you're interested in and see if it's right for you. If you love learning these subjects, that's a great sign that you're in the right place!
Think about the questions you have
Jot down your questions for us. We mean the real questions you have about what you need to get started, succeed in your course, and find a job in your new career–not the kind of questions you have to craft for a job interview when you're trying to impress the interviewer. You're considering a big change that requires a serious commitment, so we're already impressed.
Here are examples of some of the smart and practical questions we get from our applicants:
How can I best prepare myself for day one of class?
What self-teaching resources do you recommend for me?
What's the day-to-day structure of the course like? Is the daily schedule flexible? How much time should I plan to spend on it?
What are my tuition payment and financing options?
What career services support do you provide?
Any questions that help clarify your goals and get started on them are good questions to ask. Feel free to send your questions to your admissions rep ahead of time or bring a detailed list of questions to the interview.
Have your tech ready to go
If your interview is over Zoom, be sure to get your computer ready. Download Zoom or check for updates and test your audio and video before your call to make sure they work. If your interview is over the phone, make sure you put your phone's ringer on high so you don't miss the call, and have it charged beforehand – you don't want it to die mid-conversation!
No matter how you'll be interviewing, it's important to find a quiet, comfortable place for your call so you can focus on the conversation with as few distractions as possible.
What kinds of questions can you expect from us during the admissions interview?
We usually start the interview off with questions about your goals and approach to learning, for example:
Why are you thinking of making a transition to tech?
Why is now the right time for you to start this career?
What tech skills have you worked on so far—at work, in classes or on your own? Remember, it's OK if you're completely new to tech.
What do you think you're going to enjoy about your new career?
Do you enjoy collaborating with other students?
We ask these kinds of questions to make sure your expectations and goals match our course offerings and the kind of work life you can expect after you graduate. We're also looking for students who will be a positive force in class, to help our community stay welcoming, productive and successful.
We'll also have some practical questions for you to help you find the right course structure and schedule, like:
Do you want to do a full-time or part-time course?
What time zone are you in?
Will you be working or caregiving while you're taking your course? If so, you may need our flexible course options.
We'll also explain the rest of the admissions process so you know what to expect and have the information you need at each step.
Download this checklist to prepare for your admissions interview
What is a typical Flatiron School admissions interview like?
Now you know how to get ready and what we'll talk about, so how does the admissions interview typically go? Here's what typically happens:
Log in to Zoom or make your phone call, depending on what you've set up with your interviewer.
Take a minute to make sure everyone's audio and video is working right.
Introduce yourself and meet your admissions rep.
Tell us about you. This is the part where we ask questions to make sure you're getting the program that fits your needs and expectations.
Ask us questions about the course you're interested in, like start dates, time requirements, tuition and financing, and career coaching.
Plan your next steps in the admissions process, with guidance from us about what you'll need to know and do.
What happens after your admissions interview?
When your admissions interview is done, you should have a clearer idea of what your life will look like while you're taking your Flatiron School course. If you have not already completed your admissions assessment, you will be asked to complete it. Here's our insider's guide on how to pass the admissions assessment.
Depending on how ready you are to start and how soon you schedule your interviews, we recommend that you give yourself about six weeks to go from application to course start date. During that time, the admissions team is here to answer your questions and help you prepare for the next stage in your life.
Ready to #change things at Flatiron School?
Apply here and schedule your admissions interview so we can help you get started. Already applied? Check your email for your personal invite to schedule your interview.
This article was created as a collaboration with an admissions rep from each discipline.
Disclaimer: The information in this blog is current as of 5 July 2023. Current policies, offerings, procedures, and programs may differ. For up-to-date information visit FlatironSchool.com.
Posted by Rhea Harless / June 2, 2021