Teacher Appreciation Week 2023
This Teacher Appreciation Week we are celebrating the Flatiron School team members who help deliver our student's immersive programs.
Reading Time 3 mins
This Teacher Appreciation Week we are celebrating the people who help deliver our immersive programs: our curriculum designers, faculty managers, and instructors. Their hard work delivers the practical, applicable skills that help our students succeed.
In this post, we're featuring several impactful members of the Flatiron School instruction and curriculum team – career changers themselves like many of our graduates – and revealing their advice to students.
Greg Damico: Technical Faculty Manager & Data Science Lecturer
Greg Damico, Technical Faculty Manager and Data Science Lecturer, began his career by spending more than twenty years in academia. He accumulated advanced degrees in Physics, Ancient Greek, Philosophy, and Applied Mathematics before ultimately pivoting into Data Science and teaching at Flatiron School.
Looking back at his career thus far, Greg is most proud of his impact on his students.
"Maybe this is a little trite, but I'm very proud of helping to jump-start new careers. Watching students go from zero to hero never gets old."
His advice for those students is to harness the power of collective learning. 
"Do not be shy about asking for help, especially from your peers! Two heads are better than one, and collaboration will be important wherever you go anyway."
Jesse Pisel: Data Science Curriculum Manager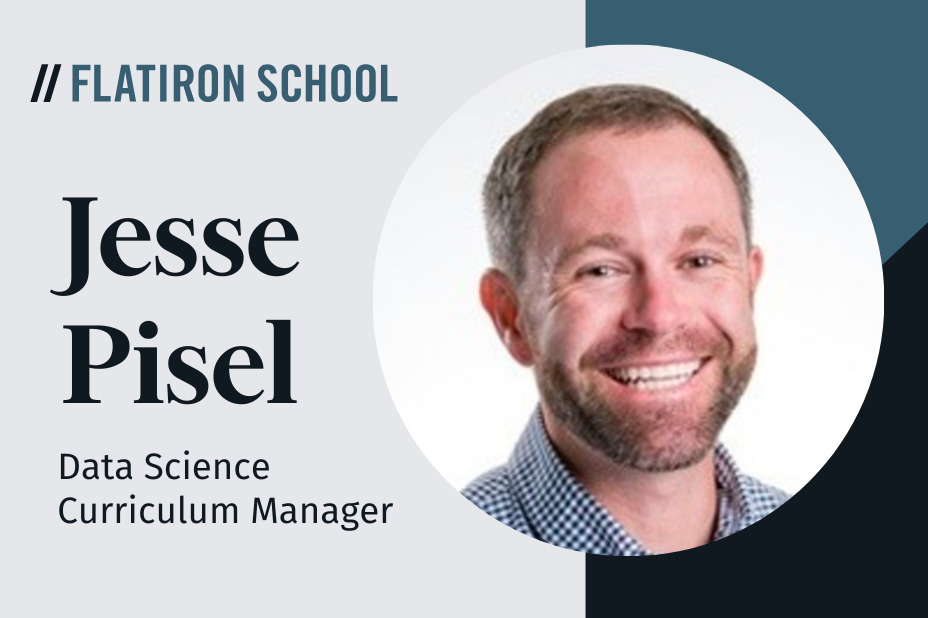 Jesse Pisel spent a decade in geology-related academic and industry positions before pivoting into tech, citing the desire for a quicker-paced work environment. He is now a Data Science Curriculum Manager at Flatiron School, pulling on his extensive experience to develop coursework for Data Science students.
Jesse's advice for students interested in pursuing data science is perhaps a result of his experience moving among different industries throughout his career.
"There are so many unique areas of data science to pursue. Getting a broad understanding of data science and all the different areas (statistics, machine learning, deep learning, visualizations, etc.) will help you identify what you find the most interesting. Once you know what you are interested in, you can then spend time deep diving into the topic to become an expert."
Bani Phul-Anand: Lead Product Design Instructor
Bani Phul-Anand, Lead Instructor of Product Design, has more than 12 years of experience in the field. She began her career in luxury beauty and fashion, but a pivot into tech eventually led her to a career in Product Design and a teaching position at Flatiron School.
She advises students to continuously work at honing their skills throughout their careers, and lean into constructive feedback.
Practice more than you think you need to – that's the only thing that will make you better at what you do. But don't get stuck on tools or software, they change. And don't be precious with your work – seek criticism, not validation.
Jeffrey Hinkle: Data Science Curriculum Writer
Jeffrey Hinkle, a Junior Curriculum Writer for Data Science, spent more than two decades in the restaurant industry as a chef before pivoting into tech. The driving force behind his life change was the desire to spend more time with his family, and the work/life balance he now has as a Data scientist allows him to do just that.
His advice for students, and other career changers like him, is to lean into the struggle and embrace the learning journey. 
"Don't give in to imposter syndrome, if you are uncomfortable with something you are doing or working on, you are expanding your knowledge. Staying in your comfort zone will not allow you to push yourself."
Learn From The Best At Flatiron School
If you're interested in seeing some of our instructors and curriculum managers in action, why not check out some of our past events?
Exploring America's Pastime with Bayes' Theorem: Technical Faculty Manager Greg Damico explores the connection between Data Science and Baseball
Why Every Developer Should Learn Python: Senior Curriculum Manager Alvee Akand explains the importance of Python
Don't Gamble on Your Cybersecurity: Cybersecurity Instructor Eric Keith talks about how cyber risks and modern gambling intersect
Playful Design – Exploring the Fun Side of UX: Director of Product Design Joshua Robinson discusses how we can use elements of fun in UX Design
If you're ready to experience our curriculum and instructors firsthand, apply today.
Disclaimer: The information in this blog is current as of 8 May 2023. Current policies, offerings, procedures, and programs may differ. For up-to-date information visit FlatironSchool.com.
Posted by Anna Johnson / May 8, 2023