Jesse Pisel: From Geology Professor To Data Science Curriculum Manager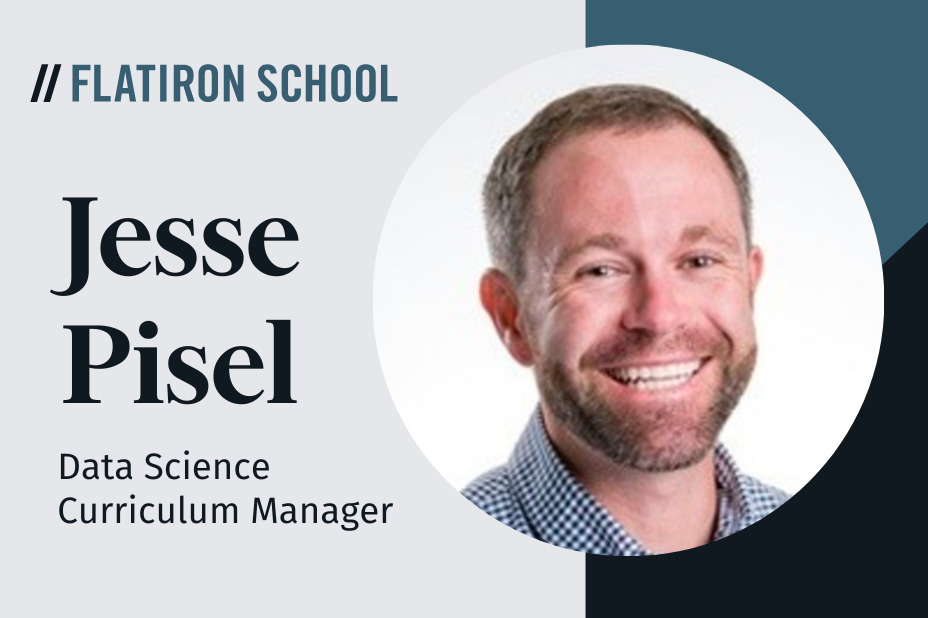 Jesse Pisel accumulated a bachelor's, a Ph.D., and 15+ years as a geologist in academia before pivoting into tech for a faster-paced work environment.
Reading Time 4 mins
Jesse Pisel, Data Science Curriculum Manager at Flatiron School, has a Ph.D. in Geology and spent more than a decade in Academia and earth science-related positions before making the jump to tech.
He shares his journey from Geology Professor to Data Scientist below.
An Academic Foundation In Earth Sciences
Jesse Pisel began his academic career, as academics do, with a bachelor's degree in Geology and Earth Sciences. This was followed by a Ph.D. in the same field, during which Jesse began a decades-long love affair with data.
"I got into data science during graduate school while working on spatial statistics and geology," Jesse said. "Turns out machine learning was a great approach for mitigating human bias at different spatial and temporal scales"
After receiving his Ph.D., Jesse worked as a data scientist in oil and gas, mining, and governmental industries, followed by several years of teaching and researching at universities. His affinity for data, however, followed him through all of his positions and in each industry.
"The math part of data science really drew me in from my background in earth surface processes. Machine learning has the potential to make predictions at a much more granular level, allowing me the time to think about the bigger picture of the problem I was trying to solve. Ultimately it was a chance to think of the implications of the solution, and find underlying themes in the data."
Diving Into Data Science
After spending more than 10 years in geology-related academic and industry positions, Jesse made the decision to pivot his career into tech, citing the desire for a quicker-paced work environment.
"Academia was a lot of fun, but it is very tough teaching a course and then having to wait for the next semester or next year to see how changes I made in the curriculum worked or did not work for the students," Jess said on the switch. "I was really after a bit faster pace than academia offered."
Jesse found the faster pace he was looking for in tech. As for what made tech an attractive option, well, the answer is in the data.
"Tech […] has so much data and has so many unique solutions that we use every day. It is pretty unique to come up with a math-based solution to a problem and be able to implement it with a team so quickly," Jesse said. "It feels kind of like having super or magic powers. Plus I get to work on really challenging problems with the best and the brightest folks out there."
In order to make the jump, Jesse had to acquire some new skills in both theoretical and applied applications.
"Getting a good handle on databases, networking, and algorithms along with machine learning and deep learning theory helped in the transition," he explained. "Once I understood the theory, the tools were fairly straightforward to pick up."
His Experience In Tech
As of the end of 2022, Jesse has been working in tech for about a year. The transition, he says, has been smooth and well worth the effort to work in the faster-paced industry he'd wished for.
"The transition has been great between tech and academia. Things move faster in industry, but the problems are larger and have more data to solve them. But ultimately at the end of the day, it is about working with a great team that is focused on the same goals and figuring out the optimal way to achieve them together."
He's worked on some interesting projects too, both of which incorporated his Geology background.
"My favorite projects are both geospatial-based. The first was an applied geospatial analysis of geochemical data. In the study, we investigated potential critical mineral deposits at a state-wide scale from open-source datasets. The second project used reinforcement learning to optimize electric vehicle charging stations. This study used energy consumption, points of interest, and electric vehicle ownership rates to determine where chargers would get the most use."
Advice For Flatiron School Students
Speaking with Jesse, you get the impression that he is both very good at what he does, and enjoys it. Looking back at his career so far, however, he is most proud of the impact he's had on others.
"So far I am most proud of all the research and projects my former students have completed. It really is satisfying watching students learn data science skills and then use the skillset to solve real-world problems."
Jesse's advice for students interested in pursuing data science is perhaps tailored to his experience moving among different industries in his career.
"There are so many unique areas of data science to pursue. Getting a broad understanding of data science and all the different areas (statistics, machine learning, deep learning, visualizations, etc.) will help you identify what you find the most interesting. Once you know what you are interested in, you can then spend time deep diving into the topic to become an expert."
To learn more about Jesse Pisel's work, visit his LinkedIn and Github.
Ready To Make A Change, Just Like Jesse Pisel?
Inspired by Jesse's career pivot story? Apply Today to our Data Science Course to take charge of your future in as little as 15 weeks.
Not quite ready to apply? Book a 10-minute chat with admissions to see if you qualify, or test-drive the material with Data Science Prep.
Read more career-change stories like this one on the Flatiron School blog.
Disclaimer: The information in this blog is current as of 28 December 2022. Current policies, offerings, procedures, and programs may differ. For up-to-date information visit FlatironSchool.com.
Posted by Anna Johnson / December 28, 2022