Is it too late to learn computer programming?
Is it too late to learn computer programming? Discover whether you're too old to dive into a programming career.
Reading Time 8 mins
Key takeaways:
It's not too late to make a midlife career change into tech.
The average age for career change is 39.
Scientists used to think that cognitive abilities leveled off around middle age, but now see the brain as constantly evolving.
Learning computer programming can take as little time as you'd like, if you have the time and secure the best resources.
Learning ability does not dissipate with age.
Tech companies hire workers of all ages.
According to U.S. News, computer programming is the 11th-best tech career to have, and the Bureau of Labor Statistics projects around 200,000 jobs during the next decade. This means there will be plenty of opportunities for new coders to enter the field.
What's more, feeling chronically underpaid, overworked, and underappreciated can take its toll.
Think you're the only one who feels that way? As a matter of fact, nearly half of people in a recent Indeed survey have made a dramatic career shift, like from marketing to engineering. The same report also said that 88% of these career changers say they're happier since making the move.
Thus, it's clear that it's not too late to learn computer programming in 2021. Despite your age or previous experience, you can learn the skills to land a fulfilling, full-time job in technology.
Let's get into how to learn programming and the reality of making a mid-career change.
Why Make a Midlife Career Change Into Tech?
Changing careers midlife can be scary. You likely spent a lot of time, money, and resources to begin your career in the first place. Not to mention the fact that you've worked really hard.
But, you have that nagging sensation that you're not doing what you're supposed to. Lacking fulfillment and growth opportunities at work can have negative psychological effects such as decreased energy and motivation. On the job, low job satisfaction leads to employee disengagement, low team morale, and high absenteeism. And you aren't alone. According to Forbes, more than one-third of workers are planning to quit their jobs and find something better.
With so many people dissatisfied at work, it begs the question: what are you going to do about it? Sure, you can continue to slog along, attend pointless meetings, and entertain weak job prospects. Or, you can take a step forward. You've pinpointed what you'd like to do: computer programming. But, you don't know where to start. You wonder if it's too late, what programming language you should learn, or if anyone would hire you at your age.
Without reservation, we're happy to report it's not too late to enter the world of technology. With new technologies rapidly emerging, there are more and more job openings across various sectors. For example, learning computer programming could open up possibilities in web development, data science, and software development to name a few. Whatever job you choose, learning to code can help to advance your career in these fields.
Moreover, coding jobs pay well. No more stressing about being underpaid and undervalued. CIO reports that professional salaries for entry-level workers start around $78K. See CIO's stats on the top 10 jobs in tech.
Lastly, the work you do as a computer programmer is meaningful. Although not obvious at first glance, your new coding superpowers can give you the opportunity to help people. Let's say you were on the team that coded the app, Migraine Buddy. The app allows users to track their symptoms and triggers to alleviate their debilitating migraines. As a programmer, you get to contribute to innovative projects that serve a real purpose just like Migraine Buddy.
How long does it take to learn programming?
According to Career Karma, it takes about three to six months to learn the basics of programming. Of course, this depends on many factors.
To begin, some people are quick learners, soaking up knowledge like sponges. Others use better resources that speed up their learning process. In all honesty, you are in charge of how long it takes to learn to code. The more you apply yourself and the better resources you use, the faster you'll grasp the essentials of coding.
All in all, don't expect to become coding proficient in less than three months of full-time study. Depending on your professional goals, preferred programming language, prior knowledge, and dedication, it could take even longer.
Think about learning a foreign language. You're not going to become fluent overnight. It takes a lot of time, practice, and repetition to feel comfortable with your new language. It's the same with a programming language like HTML, CSS, or Python.
In fact, some U.S. school districts now recognize programming languages as new languages. Accordingly, they are considering allowing students to study a programming language in lieu of a foreign language.
In general, there are a few main ways to learn computer programming which can affect the speed in which you progress.
Self-teaching consists of watching lessons for free on YouTube, attending local Meetup groups for beginners, or reading coding books. Even though this is a good option, this method typically takes six months to a year.
If you choose to go back to school, a college degree (Bachelors and/or Master's) could take as much as four years or more. Some people have the mentality that a degree is prestigious and worth the effort. The reality is it's not necessary in the tech industry, to say nothing of the cost.
Coding bootcamps are a great compromise. In just three to six months, you can learn just about everything you need to know to change careers into web development or software engineering.
Additionally, a reputable bootcamp will allow you to graduate with a job-ready portfolio to show to potential employers and offer career services. At Flatiron School, we're proud to report that 86%* of our bootcamp graduates found a job.
**for job-seeking on-campus and online graduates included in the 2020 Jobs Report including full-time salaried roles, full-time contracts, internship, apprenticeship, and freelance roles, and part-time roles during the reporting period (see full Jobs Report here).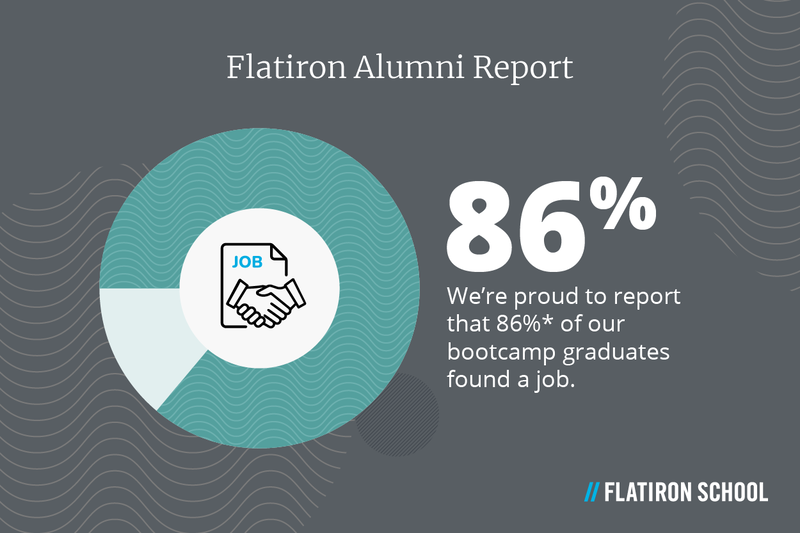 Whether you decide to self-teach, go back to school, or attend a bootcamp, one thing is certain: if you get started now, you're that much closer to the flexible, purposeful, well-paying career of your dreams.
Is learning harder with age?
It's a myth that you are ever too old to learn something new. Scientists used to think that cognitive abilities would level off around middle age before declining. Instead, scientists now see the brain as continuously changing and developing across the entire life span.
In truth, no matter your age, you can learn computer programming. Although you may face some extra difficulties (like speed, focus, and confidence) at 30, 45, or 60, your brain still has an astonishing ability to learn and master many new skills.
Let's examine some of the challenges of learning at a mature age and how to overcome them.
With age, you might not learn quite as quickly, but you can still learn new things. One way to keep your mind sharp is to do games and puzzles that train your brain — this can help to slow the decline in brain speed. So you may find that it takes more time to learn to program, but you certainly aren't incapable of learning new things.
It's also important to note that it may take more focus since the responsibilities of life will vie for your attention. This is sometimes where the misconception comes from about learning something new. In reality, you just have different priorities and need to block out time to focus on your courses.
To see if you like coding and think you're up for the task, try out our free prep work.
Once you've overcome these hurdles, you can catch up in a relatively short time. There are programs out there specifically tailored towards career changers like our software engineering bootcamp.
In fact, the average age for a career change is 39, so you won't be alone either.
Age in the workplace
You've probably heard the horror stories of older employees being forced to retire. By all means, there are bad apples in any industry. But those worried about ageism can rest easy.
A common assumption is that tech companies only employ recent graduates. Actually, a study of 330,000 anonymous employee records showed that the average worker in tech is 38 years old, compared to 43 years old for all other industries.
In the same study, they concluded that non-manager workers in tech over 40 are increasingly likely to receive top performer ratings as they age, mature, and gain experience. They are also compensated and resign at the same rates as their non-tech counterparts. In other words, there are a lot of similarities in career trajectories across all industries.
Any company would be remiss to ignore the advantages to hiring older workers. Among these, older workers have wisdom and experience. These are not negatives. On the contrary, your transferable skills make you an asset. In addition, your proven track record – goals met, references, existing network – are all things that make you shine on a job hunt.
Is it too late to learn computer programming?
The simple answer is, no. There are many job opportunities in tech for coders of all ages. Although it may take some effort to study relevant programming languages, there is no reason you can't learn to code in your 30s and beyond. Besides, a mature age makes you an asset, not a liability. Any good tech company understands this elementary fact.
Regardless of what field you want to get into – web development, data science, software engineering – joining a career-changing bootcamp may be just what you're looking for to launch a rewarding career you love.
Jumpstart your career with an online coding bootcamp. Apply today or schedule a 10-minute chat with admissions to learn more about the programs at Flatiron School.
Disclaimer: The information in this blog is current as of 4 November 2021. For updated information visit https://flatironschool.com/. 
Disclaimer: The information in this blog is current as of 4 November 2021. Current policies, offerings, procedures, and programs may differ. For up-to-date information visit FlatironSchool.com.
Posted by Flatiron School / November 4, 2021